But first, we had to get there
I left Munich to meet my sister at the Frankfurt airport, as she had taken the red-eye from Boston and had designated me responsible for "dragging her sorry ass to Leipzig" (her words) after a night of flying and no sleep, though entrusting to me this fairly straightforward task turned out to be a mistake. In general, I find travel-day-from-hell stories kind of boring for everyone but the storyteller, so I'll spare you the details, but I'll just say that our trip from Frankfurt to Leipzig involved a surprise stop at the Hanau train station (note: not on the way to Leipzig), and made what should have been a 3-train day into a 5-train day. May it be my last. Sorry, A.
We got there
Other than that little snafu, all proceeded smoothly, and we made it into our AirBNB no problem. We were staying on the west side of Leipzig, across the Elsterflutbett, in the pretty cool Plagwitz area, where the main drag of Karl-Heine-Strasse is full of restaurants and cafes, and we spent quite a while wondering up and down the street, peering at menus and discussing what they meant, before opting for some phenomenal pho for dinner.
The next day we found out that Leipzig is a city of late risers. We wandered around for perhaps 20 minutes trying to find a café that opened earlier than 10am—10am!!! This is morning coffee we're talking about, people. Eventually, we were saved by the Slow Food bakery (logo: a snail with a brick oven for a shell—adorable!) I guess a traditional bakery is a good bet for a place that would be open early. We utilized the absolutely incredible public transit system in Leipzig to get to the center, and were pleasantly surprised that the Zeitgeschichtliches museum, about life in communist east Germany and the unification process, was free and very well done, though we wished there were more English translations. I find modern German history absolutely fascinating, and the more I learn, the more I find myself on the precipice of incredulity, and vow to learn more about this on my own.
We wandered around in the afternoon in the neighboring and also hip Lindenau area, where unfortunately many cute shops were closed, though we did walk by a store that sold graffiti supplies that, judging by the state of most ground-level facades of buildings, must be doing very well indeed.
The Panometer
But the thing I really want to write about is the Panometer, because it's one of the coolest, most unique things I've ever seen. With only a small time in Leipzig, we wanted to do something unique to the city, and had read about this thing called the Panometer. I vaguely remember TripAdvisor saying it was a big mural, or something? So we hopped on a tram and headed a few miles south. As it approached it became clear that it was housed in two old, large, cylindrical, gasworks-type buildings. We had gotten there an hour and a half before closing, and the ticket lady said it probably wasn't enough time, but after explaining that it was our only day in Leipzig, she gave us tickets half off, and we entered into one of the gasometers, which stated it was displaying the Great Barrier Reef.
The entrance from the ticket lobby led us into the very darkened cylinder, with deep blue lights slowly shifting, and calming, electronic-y instrumental music playing all around. Then, began an in-depth exhibit about coral, which I really did not expect. It was interspersed with surreal structures, like a tall, curved, white-glowing-purple thing that, when you entered, showed a glowing...thing. Probably related to coral.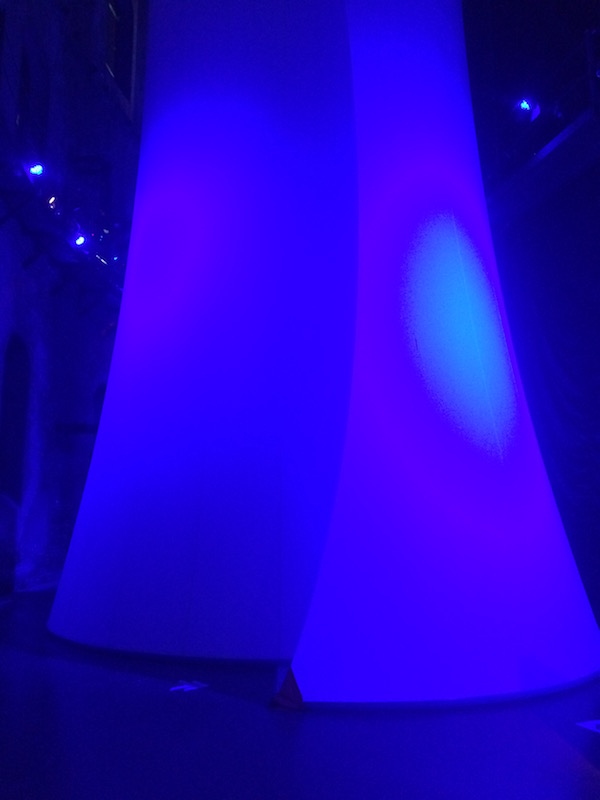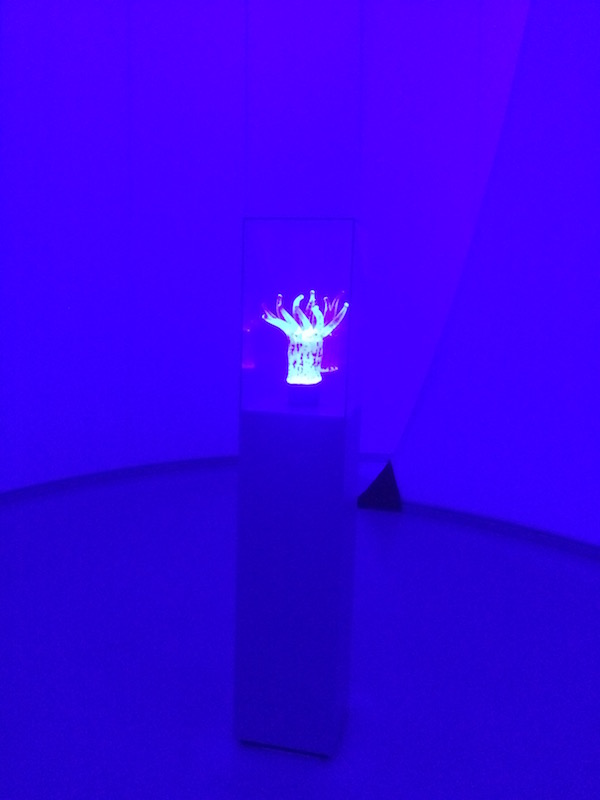 The exhibit kept us moving along the periphery of the building, where occasionally there was some cryptic writing, and there was another, smaller cylindrical structure in the center.
I was a bit confused, what exactly was this thing? But after nearly one revolution around the outside, during which I did indeed learn a lot about coral, we reached the entrance to the inner cylinder, which was totally jaw dropping. Along in the interior walls of the inner cylindrical room was an enormous mural of the Great Barrier reef, 30m (98') tall and 105m (344') in diameter. In the center was a platform where you could walk up a few levels to see the mural from a different height.
It was absolutely mesmerizing, it felt like being inside in a glass tank submerged in the ocean, the light would shift to make it go from day to night, while the otherworldly music continued to play without interruption. I would've wanted to stay for a lot longer, but we didn't have much time, and I still wanted to see the twenty-minute film about how it was made.
We learned that the Panometer is the brainchild of Austrian artist Yadegar Asisi, and there have been several iterations including Mt. Everest, Ancient Rome, Amazonia, and the Battle of Leipzig, among others. Each mural takes years to create, using a combination of photography, artistic renderings, both in paper and online, and often real-life scenes that are reenacted and then digitally placed into the mural. If you ever have an opportunity to see one of those, I absolutely recommend it without reservation.
After the indoor exhibit, we quickly popped into the other of the gasometers, which had nothing but a spectacular, curved metal frame for a roof, and thus was open to the outdoors. I think it would be a really fantastic place for a big party.
Hypezig?
After the Panometer, we made our way back to the center, but first stopping at Bayerischer Bahnhof Gasthaus & Gosebrauerei, which translates as Bavarian Train Station Gashouse and Brewery (small note here that Leipzig is not in Bavaria, though Munich is, so I didn't have to go long without more beloved Bavarian cuisine). It is a fixed up old train station with a gastropub inside, exactly the kind of yuppie hipster stuff I love, where we had a beer and some bratwurst. From there, we opted to try the brand new S-bahn in Leipzig, which was quite controversial, as the cost seemed to balloon to Big Dig-like proportions, reaching $1 billion dollars. We only took it a few stops, but it was a truly beautiful subway. Combined with the incredibly efficient and extensive tram system, I have to say that I think Leipzig has the best public transportation of any city I've ever been in. (Funny side note: the trams run in the middle of the road, and the stops just let people off in the middle of the road, though the cars passing between the tram and the sidewalk are obligated to stop.)
In the evening, we walked to B10 wine bar for dinner. It was getting dark, and the fastest way there was through the large Clara Zetkin park, and we wondered if it was safe? We decided to risk it, only to find families picnicking and innocuous groups of young people enjoying the summer night. It's funny how as an outsider you can have such a different idea of a place than how it actually is.
B10 had really good food and a nice selection of wine, and, most incongruously, a weird, colorful painting of Trump on the wall (we later learned had been there long before he started running for president and no, I don't think the owners were Trump supporters). It's run by an Australian named Paul, who sat down with us after our meal, and gave us the inside scoop on Leipzig and also about some of his personal life that we hadn't asked about. In addition to learning a bit about his ex-wife, we also asked about "Hypezig." You see, we'd read that Leipzig was the new Berlin, the up and coming hip place to be. And while there were definitely some pretty cool parts, I guess I was expecting it to be, you know, as hip as Berlin, though maybe that's not fair. Paul agreed, and told us that the rent is super cheap, but buying is expensive (something about Russian mobsters owning all the buildings, but I'm fuzzy on the details.) He is trying to revolutionize the restaurant scene in Leipzig, to make it more like how western restaurants are run, with knowledgeable servers that speak English. I think he's off to a good start with B10, now if only they could do something about the coffee (not so good).
The next morning we went to an adorable café (Café Kater) around the block before catching the tram to the train station so we could continue on to Berlin. Overall I really did like Leipzig, and would recommend a stopover if you're in the area. However, be aware that not nearly as many people spoke English as I found in Munich or Berlin.